Daily Times - Site Edition

Rescue teams reach landslide-affected villages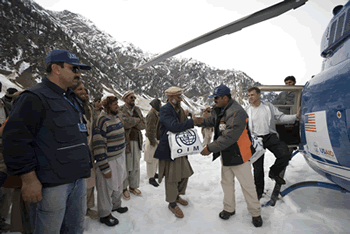 ISLAMABAD: The International Organisation for Migration (IOM) on Tuesday completed delivery of winterised tents, plastic sheets, warm clothing, blankets, cooking stoves, kerosene, hygiene kits, medicine and food to Doba Sayedan.
IOM, Muzaffarabad's Rapid Response Team (RRT) staff, who reached the village in a helicopter provided by the United States Agency for International Development (USAID) after the landslides in the village helped recover bodies, provided medical aid to survivors and helped organise the distribution of the relief goods to some 350 affected families.
The RRT, funded by the American International Group Disaster Relief Fund, helped to evacuate a 27-year-old woman from the village by air to the AIMS Hospital in Muzaffarabad. Ismat Batool was suffering from internal bleeding following a miscarriage.
With the possibility of further rains and snow in the coming days resulting in more landslides, authorities are planning a risk assessment of the area with the help of geologists. IOM RRTs, which include doctors, rapid assessment experts and mountain rescue guides also expect to play a role in integrating future disaster response plans drawn up by the government to cope with future disasters.
On March 25, another landslide in Neelum Valley hit three houses in Lilam village killing seven people and injuring four others. With no road access, the Pakistan Army carried out rescue operations and provided first aid to the injured. The IOM staff also traveled to Narran village in NWFP's Kaghan Valley by USAID helicopter to identify the needs of more than 60 families cut off by the blockage of roads and six feet of snow.
IOM RRTs, based in NWFP, are also supporting efforts to clear roads to the Allai Valley, which are currently blocked at seven points due to large and small landslides. IOM has provided an earth-moving excavator requested by the local authorities to help clear the road from Thakot to the valley. online