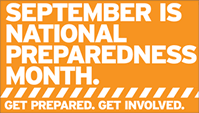 To kick off National Preparedness Month in New York City, the Office of Emergency Management (OEM), in partnership with the NYC Citizen Corps Council and other community partners, is hosting a citywide Ready New York preparedness day today at key locations around the city.

Each September, National Preparedness Month is a nationwide effort sponsored by the U.S. Department of Homeland Security to encourage individuals to take steps to prepare for emergencies in their homes, businesses, and schools.

"Recent events have shown New Yorkers face a number of hazards, including severe weather, fire, and extreme heat. Taking the time to develop a disaster plan, assemble an emergency supply kit, and put together a Go Bag can help residents prepare for all of them," said OEM Commissioner Joseph F. Bruno. "Each September we make an extra effort to get our message to New Yorkers. We value the leadership of the Citizen Corps Council, whose members are hosting today's kick-off, and we are grateful for the support of AIG, which is helping us reach more New Yorkers than ever before."

From 8 a.m. until 6 p.m., OEM staff and a host of volunteers from partner organizations will hand out pocket-sized Ready New York guides, pens, and other preparedness items at sites throughout the five boroughs:
The Bronx: 148th Street and Willis Avenue
Brooklyn: Borough Hall at Columbus Park
Manhattan: Foley Square at Worth and Centre Streets Mitchel Square Park at 168th and Broadway
Queens: Jamaica Station at Parsons and Archer Avenues Forest Hills at 71st Avenue Station
Staten Island: Staten Island Ferry Terminal
Look for volunteers in orange shirts who are on-hand to offer tips, answers questions, and provide emergency preparedness literature to commuters throughout the day. In addition, the American Red Cross will be raffling off Go Bags at each location.
This month, OEM, in partnership with public and private partners, will promote the Ready New York message through several other initiatives:
Already underway is a bus shelter advertising campaign to inform New Yorkers that hurricanes can and do impact New York City.
New Yorkers will also see Ready New York advertisements on New York City Department of Sanitation trucks throughout the five boroughs.
Borrowing from the Department of Homeland Security's national Ready program, OEM and the Ad Council developed localized advertisements to target New York City residents. The multimedia campaign includes TV and radio public service announcements, newspapers ads, billboards, and web ads that encourage New Yorkers to develop emergency plans with their families and friends.
Power 105.1FM radio will broadcast preparedness tips and offer listeners a chance to win Go Bags throughout the month of September. Déjà vu and the Power Troopers will host block parties at two especially prepared neighborhoods in the city.
Supermarket circulars will remind New Yorkers to consider buying emergency supplies when they are making their routine grocery trips.
Today's New York City event is made possible by the generous support of AIG.
"AIG is proud to support New York City's National Preparedness Month efforts. Based on our experience managing risk around the world, we know firsthand how important it is for individuals to be prepared for emergencies," said AIG CEO Martin J. Sullivan. "Today, along with the New York City Office of Emergency Management and its partners, we encourage all New Yorkers to learn more about potential hazards, and how to stay safe."
Other National Preparedness Month partners include:
American Red Cross:
The volunteer-led American Red Cross in Greater New York relies on its 2,100 trained and qualified volunteers to deliver vital humanitarian relief to New Yorkers affected by more than 3,000 disasters, including fires, floods, blackouts and building collapses. The Chapter also provides lifesaving training and preparedness information to hundreds of thousands New York families and business each year. The Greater New York Red Cross offers a broad range of volunteer opportunities for people of all ages, interests and availability and provides complete training programs. Corporate and community organizations can also organize "Ready When the Time Comes" teams that partner with Red Cross as reserve disaster service workers during and after major local disasters.
Auxiliary Police:
The New York Police Department Auxiliary Police are NYC citizens who volunteer to assist their local Police Commanders. They come from all walks of life, and every Police Precinct, Housing Development and Transit District has an Auxiliary Police unit. The NYPD also has Auxiliary Police units assigned to Harbor and Highway units. Whenever possible, they assist in non-enforcement and non-hazardous duties.
Community Emergency Response Team (CERT):
New York City's Community Emergency Response Teams (NYC CERT) are groups of community-based volunteers trained in disaster preparedness and emergency response. Organized through Community Boards, CERT members undergo an intensive, 11-week training course so they can prepare for and respond to local disasters.
As a rule, emergency services personnel are best equipped to respond to emergencies. However, following a catastrophic disaster, CERT teams can handle initial emergency response while they wait for professional first responders. During non-emergency situations, CERT members educate their communities about emergency preparedness.
Medical Reserve Corps:
The NYC Department of Health and Mental Hygiene's (DOHMH) Medical Reserve Corps (MRC) enhances New York City's emergency preparedness by ensuring that a trained group of volunteer health professionals is ready to respond to public health emergencies. The primary role of the MRC is to help distribute antibiotics or vaccines during an emergency that requires mass prophylaxis of a large number of New Yorkers. Volunteers may also be called upon to assist the City with mass sheltering operations or to assist with medical surge capacity.
For more information about Ready New York and National Preparedness Month in New York, call 311 or visit OEM's website at NYC.gov/oem.
CONTACT: Andrew Troisi 718-422-4888